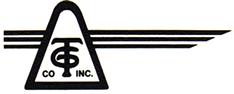 Call 815-675-2305 or email tgc@threadgageco.com for a price quote.
Our gages are precision manufactured in accordance with the requirements and specifications as set forth in applicable ANSI reference standards. Dimensions and specifications are updated and changed as new ANSI bulletins or supplements become available.
All thread gages are made of the finest
oil hardened graphitic tool steel
available. Because of the graphitic
lubricant qualities in this steel, (which
reduces friction) and high carbon
content, it produces superior long
wearing qualities.
Thread ring gages are root relieved for
longer and more accurate gaging life. A
root clearance at the major diameter
eliminates any possibility of interference
from the full form of the setting plug
and major diameter of the part being
checked. This gives assurance that
flanks of thread are making proper
contact.
Copyright © 2014 Thread & Gage, Co., Inc